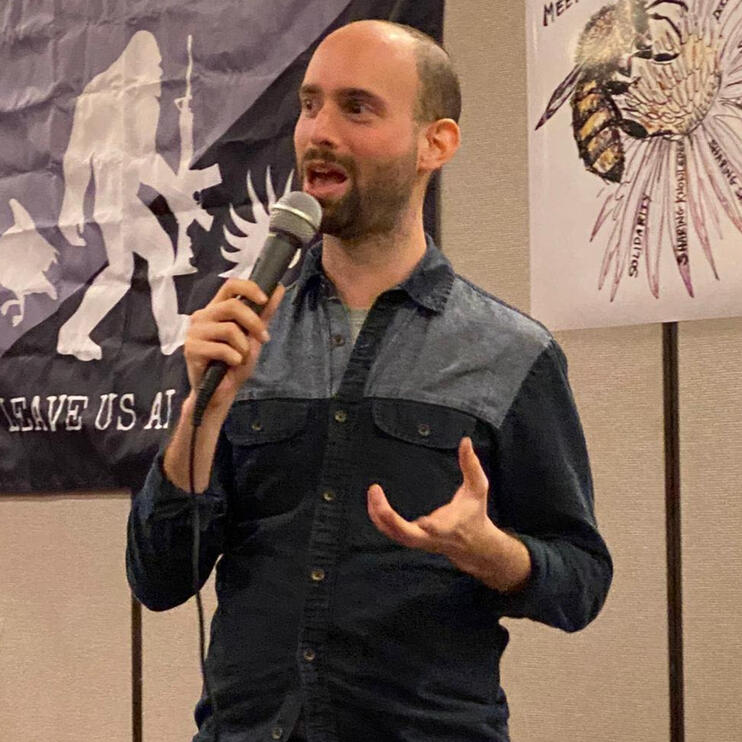 Personal and Professional Development for Freedom Lovers!
with Antony Sammeroff
Escape the Matrix
It's challenging being an ambitious, free-spirit in a world that looks increasingly like Huxley's Brave New World. The mainstream regards you with suspicion, and seemingly nice people can turn on you simply for expressing an opinion. Still - it is possible to thrive here, and we really need to be at Our Personal Best to take on the challenges of life: personal, professional and global. We are here to Shine a Light in Dark Places!
I have worked for over ten years as a therapist and coach facilitating the growth, healing and professional development of fellow freedom-lovers. In that time I have found that sharing this outlook really makes the difference. In a world of division coming from a common understanding goes a long way.
If you are an ambitious person with some brains between the ears, who tends to perceive things a little more deeply than the average joe, and have often felt compassionately confused in a world that seems unnecessarily cold, let's speak and discover how we can put our heads together to help you reach your goals.
---
Reach Higher Levels of Clarity
Your mind is for Creating New Ideas – not recycling the same old material. To create your best work you need to have a Tidy Filing Cabinet Upstairs… I will help with this.

Feel Inspired! You will come up with new approaches to life situations that never would have conceived of before!

Experience excitement and jot at taking on challenges rather than feeling like life is just and endless series of responsibilities to fulfil reluctantly. ಠ_ಠ Get At It in life rather than drag your feel along!

Improve Your Disposition! Leading to your Spouse and Kids emailing to THANK me because you were such a NIGHTMARE before! Better moods = better relationships.

Openness To Life rather than running Partially Shut down and achieving below your potential.

Make a Greater Contribution to the world and your community. Experience a sense of ACCOMPLISHMENT, knowing that your presence Really Matters and that you are making a Tremendous Difference in the world, Every Freaking Day!
---
"Antony is able to distill what one has said down to the essence. Hearing this back from him, I felt deeply heard and it gave me clarity..." - Mascha
"Dude, you've helped me out so much since February and it's gotten me so far, I think you deserve a ton of recognition for your work. I don't know what I'd be doing if I never contacted you."
"Deep and enlightening. He listens with care and asks probing and thoughtful questions. I recommend for anyone who wants to understand themselves better." - Dawn
"When I went to Antony for help, I was at rock bottom. I truly did not want to live. Being in his presence alone, calmed my mind. My sessions with him were somehow magical to me, as I was so far gone. I met him on 19 April 2017, that date will forever be engraved in my heart. It's now Jan 2018 and I've completely turned my life around and if it hadn't been for Antony, I would not be here today. 👼👼👼" - Annelouise
"Hey Guru. It's a year today that I had my 1st counselling session with you. Look at me still being alive and happy!! Without a shadow of a doubt, without you, I wouldn't be alive today. I love you and thank you from my very soul. Namastè. 🙏🙏🙏🙏🙏 xxx"
"I must tell you I had an absolutely amazing night with my girlfriend last night. We just spent the night together at home talking about things. I used the techniques we talked about to introduce topics and it worked wonderfully. I was able to talk about our conversation without getting into any argument at all and she explained how what I told her related to the therapy she went through. It was just great and it felt so nice to have such a relaxed conversation about something so meaningful. Thank you for helping me making that possible."
"When Antony said he could help me, I really didn't know what to expect. I've had loads of counselling in the past, plus NLP and CBT... not to mention A LOT of self help, but I've only ever got so far. After one hour of working with Antony I feel like a new, much more complete, well adjusted person. It's like a weight from my past I didn't even know I was carrying has been lifted off me! Thank you, Antony, you're a super star!"
"You listened to my personal stuff and shared your incredibly intelligent insights. I've never looked at the events of my life from the perspective you shared, thank you for your honesty. It's shocking that I could see my circumstances from such a radically different perspective, through your eyes. I'm really grateful for your enlightening perspective... On another note, I feel that your careful advice is going to help turn around the 5-year disconnect that I've had with my son. As soon as I post this I'm going to call him, I'm so excited to put your advice to work! Thank you SO much Antony Sammeroff!!" -Precious
---